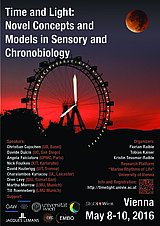 to the symposium Time and Light: Novel Concepts and Models in Sensory and Chronobiology organized by the Research Platform "Marine Rhythms of Life" of the University of Vienna , which will be held in Vienna from May 8th to 10th.
The two-day symposium will bring together scientists and students from across the world aiming to present and discuss forefront research and future perspectives on the impact of light on organisms and chronobiology.
It will cover a broad range of topics, including circatidal, circadian, circalunar and seasonal rhythms, and number of species, including diatom algae, corals, insects, worms, fish and humans.
Contributions will be made by an exquisite panel of invited speakers (see below) and members of the Research Platform "Marine Rhythms of Life". Furthermore, a number of oral presentations will be selected from submitted abstracts, while all other participants are offered to present their work in the form of posters.
We are looking forward to seeing you in Vienna in May!
Tobias Kaiser
Florian Raible
Kristin Tessmar-Raible

Invited speakers:
Christian Cajochen (UB, Basel)
Davide Dulcis (UC, San Diego)
Angela Falciatore (UPMC, Paris)
Nick Foulkes (KIT, Karlsruhe)
David Hazlerigg (UiT, Tromsø)
Charalambos Kyriacou (UL, Leicester)
Oren Levy (BIU, Ramat Gan)
Martha Merrow (LMU, Munich)
Till Roenneberg (LMU Munich)